Now Martin "Ziggi" Ziegler answered your community questions
The most recent ones are a board game and a card game, so unfortunately not really. I would like to upload more games over to itch.io when I have the time to polish them.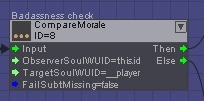 Badassness is a number that we use to express how brave, well-equipped and overall combat-ready each NPC is. We use it to drive many decisions, such as whether someone will run when they see you do a crime, or rather will engage you themselves.
When the situation is resolved, they will return to their usual activities, which I don't even think is that unrealistic. Your reputation with them will have been lowered, so their future reactions toward you may change.
Yes, NPCs within camps raise an alarm, which calls nearby NPCs to help them resolve the situation. This also wakes NPCs up, in case they're asleep
They will cool down in a while, and return to their routines.
Yes, everyone has worse vision during the night, which makes stealth easier. The luminosity of the particular position where you're at also plays a role, but it is not explicitely indicated in the UI. The torch should work like you said, but I'll have to check.
We haven't showcased the pickpocketing minigame yet, so I can't say too much, but it's a pretty solid minigame that mixes incomplete information, time-pressure, and luck.
No, the NPCs do not respawn when they die.